HKMU Nursing student, Grace Msemwa is Clouds FM 2018 Malkia wa Nguvu Awardee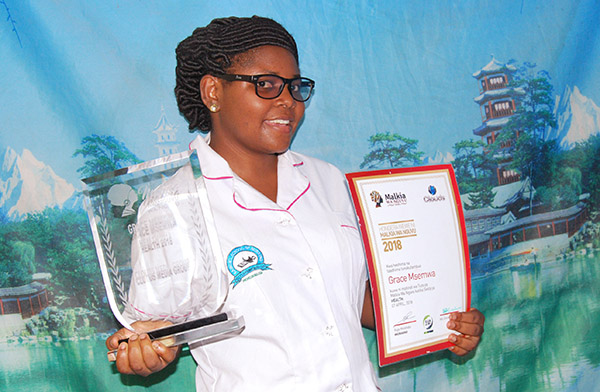 Grace Thadei Msemwa is a young Tanzanian woman from a humble background, born on 30 September, 1993 in Mtibwa village, Mvomero district, Morogoro Region.  She did her primary education in Mtibwa Primary School from the year 2000-2006 and thereafter joined Mtibwa Secondary School from the year 2007-2010.
Grace narrates that she had to walk about 10 kilometres every day for four years to and from her Secondary School. Her journey through Secondary school education was faced with challenges such as walking through forests, tolerating harsh weather conditions, leaving before dawn for school and returning home when already dark. Despite all the hardships, she had committed herself to complete her secondary school education, knowing education was the only way to liberate herself. During her graduation in 2010, Grace was given an award of being the best student on Culture and Arts.
She recalls her call to serve her community, started while still in secondary school. Grace held different positions including Chairperson of Youth Initiative club (FEMA), Chairperson of Scouts in Mvomero District, a member of Tanzania Youth of Catholic Society (TYCS), and Chairperson of Debate Club. Additionally Grace had special interests in science subjects because of her aspirations to become an engineer or a medical doctor.
After completing secondary school, Grace was not selected to join government schools for advanced level education. Her parents could not afford to pay for a private school or college, so she had to join affordable tailoring despite tailoring not being one her dreams. When the training was completed she decided to venture entrepreneurship, where she bought and sold mobile chips. Afterwards the business expanded to transferring money through mobile phones. This business did so well that some companies gave her awards for her performance. Her motive in the business was to get enough funds for college education. A year into the business, a friend convinced her to pursue a nursing course and after giving it a thought, she finally decided to seek admission into different nursing colleges.
Grace got admission into Morogoro Public Health Nursing School (PHNS) in 2012. The School enabled her to acquire knowledge and skills in human health. The knowledge she got shifted her interests from becoming an engineer to aspiring to be a nurse.  Following completion of the course at PHNS, she was registered by Tanzania Nursing and Midwife Council (TNMC) and employed by Ministry of Health, Social Development, Gender, Elderly and Children as enrolled nurse in Mkuranga District Council. She was assigned to work at Nyota ya Bahari Health Centre in Kisiju village where she served for almost a year. Thereafter Grace was transferred to Mkuranga District Hospital where she is currently working.
In 2018, Grace was honoured as Malkia wa Nguvu by Clouds Media Group as a nurse and midwife who helped women on safe delivery. Alongside with her friend, Saidi Mtengule, they initiated a campaign; Mkunga Nyumbani Kwako, visiting pregnant women and providing maternal health education to their family members. Mkunga Nyumbani Kwako campaign enabled her to get the Malkia wa Nguvu award. Grace has also begun another programme called Amka Project for motivating young secondary school students, especially girls, to study science subjects in order to raise the number of female scientists in the country.
In October 2016 Grace joined Hubert Kairuki Memorial University, in the Nursing Programme. Being a student and an employee at the same time, she also volunteers in the two programmes, Mkunga Nyumbani Kwako and Amka Project in Mkuranga district in Pwani region, most times using her salary to cover evolving costs. She calls on stakeholders, sponsors and well-wishers to support her programs. Grace believes serving people is call from God, which does not need millions, but only a pure heart. Impacting knowledge in the community is the best way to make the world a better place.