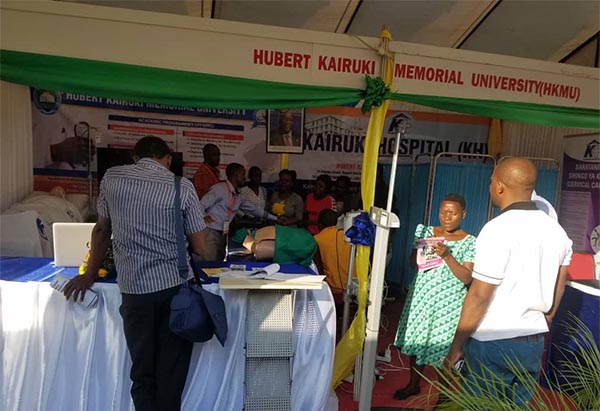 Hubert Kairuki Memorial University is participating in the 13th Exhibitions on Higher Education, Science and Technology with the theme. "quality Higher Education for Industrial Revolution". The Exhibitions are organised by Tanzania Commission for Universities (TCU), where by Higher Education Institutions, Regulatory, Professional and Research Bodies within and outside Tanzania take part to give important Institutional information to stakeholders.
In enabling the public and prospective applicants for admission into to the  University for the year 2018/2019, HKMU is publicising information on the current programmes offered, supporting applicants with online application and giving consultation to applicants who have not decided yet on the programme to study. Moreover the Teaching Hospital for the University; Kairuki Hospital is providing free Afya check in the exhibitions including: HIV screening, checking Body Mass Index and Blood Pressure.
This year's exhibitions are held at Mnazi Mmoja Grounds, in Dar es Salaam with the objective of creating awareness among the general public about Higher Education Institutions, Professional Bodies, as well as Research and Development Institutions in the country. The exhibitions also provide an opportunity for participating institutions to publicise and showcase their core functions and activities.