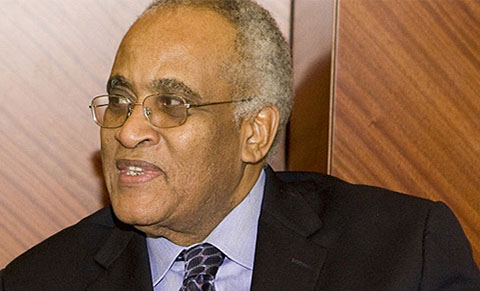 Dr. Salim undertook studies at the University of Delhi, India (1965-1968) and a Masters Degree in International Affairs in January 1975 at Columbia University, New York. He holds six Doctorates (Honoris Causa) including: Doctor of Laws - University of Philippines at Los Baños (1980), Doctor of Humanities - University of Maiduguri, Nigeria (1983), Doctor of Civil Law - University of Mauritius (1991), Doctor of Arts in International Affairs - University of Khartoum, Sudan (1995), Doctor of Philosophy in International Relations - University of Bologna, Italy (1996) and Doctor of Laws - University of Cape Town, South Africa (1998).
Dr. Salim Ahmed Salim, concluded his term of office as Secretary General of the Organisation of African Unity on 17 September 2001 after serving a period of twelve years. He has functions and responsibilities at national and international levels. At the national level (Tanzania), he is the Chancellor of the Hubert Kairuki Memorial University and also the Chairman of the Board of Trustees of The Mwalimu Nyerere Foundation.
At the International level, he has been from March 2002 acting as African Water Ambassador in advocacy, sensitization, and mobilization of support on African water issues. He also serves as Chairperson for the following Institutes; Institute of Security Studies (ISS) in South Africa, International Board of Trustees, Africa Humanitarian Action (AHI) in Ethiopia, and Advisory Board of Trustees of the Institute of Peace, Leadership and Governance in Africa University Zimbabwe.Dr. Salim also serves in the following Boards; Eminent Persons Group (EPG) on Small Arms and Light Weapons, Board of the South Center (Secretariat in Geneva), Policy Advisory Commission, World Intellectual Property Organization (WIPO), and Foundation Council of Humanitarian Dialogue in Geneva.