Welcome to the Faculty of Medicine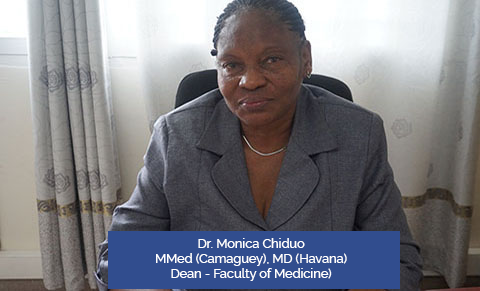 The Faculty of Medicine offers Doctor of Medicine (5 years) and Wholistic Therapeutic Counseling (3 months). Being a strong community base; the faculty extends to cover areas in health promotion,  disease prevention, research and administration.
The course aims at training doctors, enabling them to have wider perspective and capabilities in the healthcare system with excellent scientific general education,  strong public health orientation and well-developed social concerns for the community.
The faculty is headed by the Dean, Dr. Monica Chiduo, the overall in charge of all academic and administrative matters. Under this faculty, there are 15 departments:
Department of Obstetrics & Gynecology
Department of Surgery
Department of Paediatrics and Child Health
Department of Internal Medicine
Department of Radiology
Department of Anatomy
Department of Physiology
Department of Biochemistry & Molecular Biology
Department of Community Medicine
Department of Microbiology & Parasitology
Department of Pathology
Department of Behavioral Sciences and Ethics
Department of Pharmacology and Therapeutic
Department of Psychiatry
Department of Communication skills