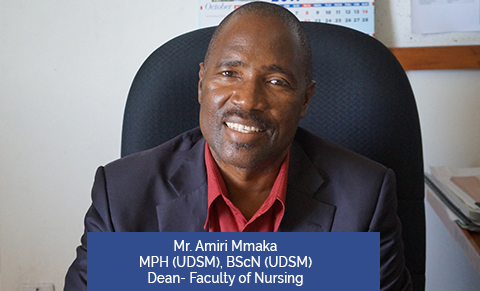 The Faculty of Nursing offers 4 years of Bachelor of Science in Nursing programme. The number of students' population joining the faculty has increased from 2 students in the year 1999 to 223 students in the year 2017.
Administratively, the faculty is headed by the Dean, who is the overall in charge of all academic and administrative matters at faculty level. 
Hubert Kairuki Memorial University is committed to training nurses who are recognized for their professional expertise enabling them to be easily recruited by the Government, Faith Based Organizations, Private Health Centres, Nursing Training and Research Institutions in and outside the country, or successfully establish and manage their own Maternal Home Care Centres.
Entry requirements:
1. Direct entry
Holders of Advaced Certificate in Secondary Education (ACSEE) or its equivalent with 3 principal passes in Chemistry, Biology and either Physics/ Mathematics/Nutrition with a minimum of 6 points. To qualify for admission, one must have at least C grade in Chemistry, and at least D grade in Biology and E grade in Physics /Mathematics/ Nutrition.
2. Equivalent qualifications
Holders of Certificate of Secondary Education Examination (CSEE) with at least Five (5) passes including two credit passes in Chemistry and Biology and a D Grade in Physics PLUS Diploma in Nursing with an average of B+ or GPA of 3.5.
Holders of BSc degree (Lower second or above) majoring in Physics/Mathematics, Chemistry, Biology/Zoology.
Duration of the programme is 4 years, plus one year of internship.