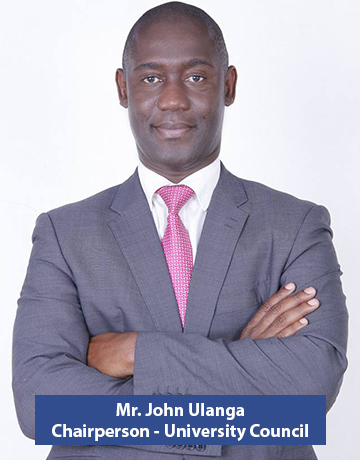 The University Charter
The University authorises its mandate from the University Act No.7 of 2005, and is governed by the University Charter, University Council, and the Senate. The Charter was signed by the former President of the United Republic of Tanzania, Jakaya Mrisho Kikwete on 24th March 2010. Provisions for establishment, functions, administration, powers, rules, staff and members of the University are stipulated in the University Charter. 
The University Council
Governance and control of the University is under the Council, which is the principal policy making body of the University in ensuring that the University operates smoothly. It approves policies and plans appropriate to its three core functions: teaching, research and consultancy.
The University Senate
The Senate is the principal decision making organ in all academic matters of the University, responsible for the control and regulation of the instructions, education, research and consultancy within the University.
The University Management
 Management is made up of:
Vice-Chancellor
Deputy Vice Chancellor for Academics
Deputy Vice Chancellor for Finance
Planning and Administration
Corporate Counsel
University Bursar
Deans of Faculties
Directors of Institutes
Dean of Students
Brief History of Governance
The late Prof. Hubert C.M. Kairuki, was the Institution's Founding Vice Chancellor.
The late Dr. Ali Omar Juma, former Vice President of the United Republic of Tanzania, was the first Chancellor of the University. After his death in 2001, Hon. Dr.   Salim Ahmed Salim took over as the Chancellor of the University to the present time
The Second Vice Chancellor was Prof. Esther D. Mwaikambo ( 2000-2006)
Prof. Keto E. Mshigeni was the third Vice Chancellor ( 2006- 2016)
Prof. Charles S. Mgone is the fourth and the current Vice Chancellor.