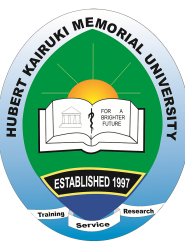 The LOGO of Hubert Kairuki Memorial University comprises of a shield, a base and  motto inscribed in an open book.
THE SHIELD with symbol of the sun radiating, is the central and most prominent feature of the logo, standing for light that guides the Institution. The Open book represents the mission of impacting knowledge. The left page of the book shows three supporting pillars that represent the University's motto, that will be achieved through training, service and research. The central element of the book shows a snake that reminds the bronze serpent of biblical Moses, which provided healing to those who looked upon it. The green color symbolizes the University's vision of being a University that produces highest quality of education, research and exemplary services to the society.
THE BASE bears the year of establishment. The navy-sky blue color background, symbolizes the spirit of peace, harmony and tranquility that the University strives to maintain within the Institution and to the Public.
THE GOLD  surrounding the year of establishment stands for the University's commitment to superior quality in all its activities, adherence to excellence towards fulfilling the mission and vision, so as to achieve the highest levels of competitiveness, responsiveness and professionalism.