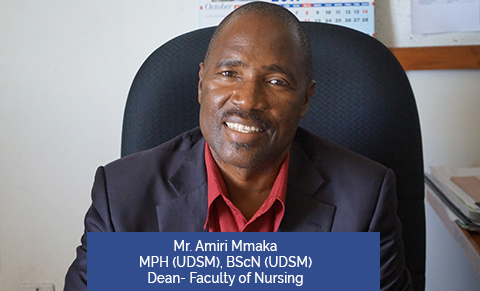 The Faculty of Nursing offers 4 years of Bachelor of Science in Nursing programme. Administratively, the faculty is currently headed by the Dean, Mr. Amiri R. Mmaka who is the overall in charge of all academic and administrative matters .
The faculty has a motivated workforce that is highly committed to training competent nurse graduates, who will be definitely recruited by; the government, faith Based Organizations, private health facilities, training and research institutions locally and internationally.
The University is committed in educating men and women who will bring noticeable impact to the society. Today we are proud of our achievement as a private university which has been acquired through dedication and hard work; the students' population in the faculty of nursing has increased from 2 students in the academic year 1998/1999 to 276 students in the academic year 2017/2018.
The Faculty of Nursing is committed to the overall wellbeing of its neighbouring communities. It has been offering free outreach health and consultancy services to the population in neighbouring communities since 1999. Also proving community based health care services to schools, families, health facilities, and to special groups such as pregnant mothers, children, orphans, street children, and elderly centres in the community. To date over 500,000 people in Tanzania; in areas such as Maneromango, Mzenga, Msanga, Chole, Masanganya, Masaki, Sungwi and many others have benefited from those outreach and consultancy health services.
Entry requirements:
1. Direct entry
Holders of Advanced Certificate in Secondary Education (ACSEE) or its equivalent with 3 principal passes in chemistry, biology and either physics/ mathematics/nutrition with a minimum of 6 points. To qualify for admission, one must have at least C grade in chemistry, and at least D grade in biology and E grade in physics /mathematics/ nutrition.
2. Equivalent qualifications
Holders of Certificate of Secondary Education Examination (CSEE) with at least 5 passes including 2 credit passes in chemistry and biology and a D Grade in physics PLUS Diploma in Nursing with an average of B+ or GPA of 3.5.
Holders of BSc degree (Lower second or above) majoring in physics/mathematics, chemistry, biology/zoology.